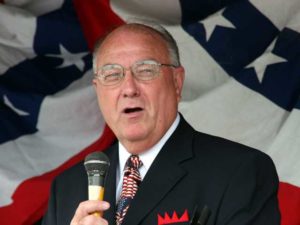 Mike Dillman has spent his life in service to our country and his fellow veterans.  While flying home from Vietnam, Pres Nixon gave an order to remove their uniform because they were returning to a divided nation.  Once in California and on his way to Oakland, his bus was literally stopped and rocked by protesters in Berkeley.  Ironically he felt safer 24 hours prior while in another country than in his home state.  After this he vowed to do all he could to honor our military, their service and sacrifice.
Since then he's created and incredible Memorial Day event in one of the most patriotic cities in America – Manteca, CA.  I know because I've been there.  He shares his fight with PTSD and how sleep was his enemy.  How he almost lost his wife and kids and how the VA saved his life and marriage.
Pastor Dillman is a man who loves his country and is devoted to making sure his posterity remains free.
Learn more at www.thememorialweekend.org
Podcast: Play in new window | Download
Subscribe: Apple Podcasts | Google Podcasts | Spotify | Amazon Music | Pandora | iHeartRadio | TuneIn | RSS | More