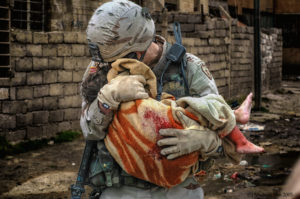 Dennis Miller called Michael Yon the "Premier Combat Journalist".  You want captivating?? This is it.  We cover topics from hand-to-hand combat, North Korean's kidnapping Japanese and presumably Americans, the United States' biggest threat, pedophilia among our mid-east enemies, WWII 442nd Infantry Regiment, war crimes, and much more.
After getting out of the Army Special Forces, Michael embedded with our troops for longer than any other war correspondent, according to the New York Times.  He deployed to Iraq, Afghanistan, Turkey, Thailand, Philippines and elsewhere.
Learn more about Michael here:
https://www.michaelyon-online.com/
And his book "Gates of Fire":
https://www.michaelyon-online.com/gates-of-fire.htm
Music courtesy of Soundroad – Believe.
Copyright 2016 Thad Forester
email questions to thad@patriottothecore.com
Podcast: Play in new window | Download
Subscribe: Apple Podcasts | Google Podcasts | Spotify | Amazon Music | Pandora | iHeartRadio | TuneIn | RSS | More