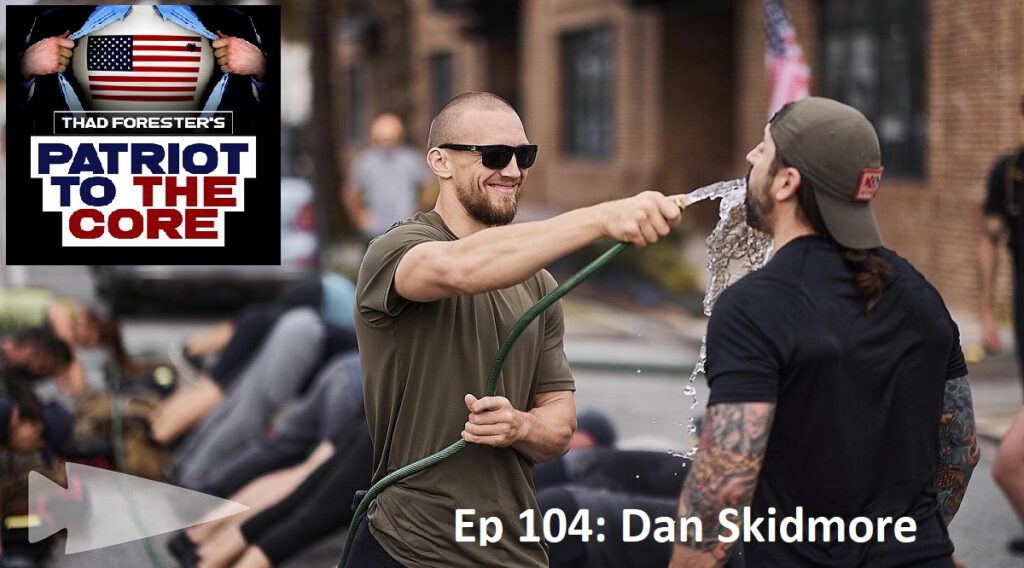 Dan Skidmore (@danskidmore11) is the Director of Specialized Training at GORUCK. He's back on PTC as to talk initially about the upcoming Mark Forester JAG 28 Memorial Birthday Walk/Ruck. This is our annual event honoring my brother Mark Forester who was KIA 2010, where we walk 28 continuous miles. Dan will be joining us for the first time (in person) on May 20, 2023 in Haleyville, AL.
I pick his brain about how to toughen up your feet, break in shoes and prevent injury (especially lower body).
We also discuss the benefits of compression therapy and his own business, Bulletproof Bands. He provided a huge discount on his site by using JAG28 promo code at checkout.
You'll want to hear why he suggests peeing on your feet too – I'm not sure I can even physically do that. And what is the max weight you should carry for this event.
I look forward to Dan joining our walk this year and leading us in Memorial Pushups. Come join us. We want you to be part of our tribe on May 20, 2023 in Haleyville, AL. Read more and sign up here:
Mentioned in this episode:
Ballistic Trainers shoes
MACV-1 Rucking Boots that Dan will be wearing for this event
Bullet Rucker
Sandbags
Sand Kettlebells
Dan's hotel in ancient Medina, Marrakesh, Morocco
Sorry for the audio issues on this one. My wifi has been oddly off recently, so you will notice some cut-outs.
You can also find Dan on YouTube and Facebook
And you can listen to our first interview on episode 75.
*Remember, for a big discount on Bulletproof Bands, use promo code JAG28 at checkout. Dan's business is showing support for The Mark Forester Foundation.
Copyright 2023 Thad Forester
www.patriottothecore.com
email questions to thad@patriottothecore.com
Podcast: Play in new window | Download
Subscribe: Apple Podcasts | Google Podcasts | Spotify | Amazon Music | Pandora | iHeartRadio | TuneIn | RSS | More