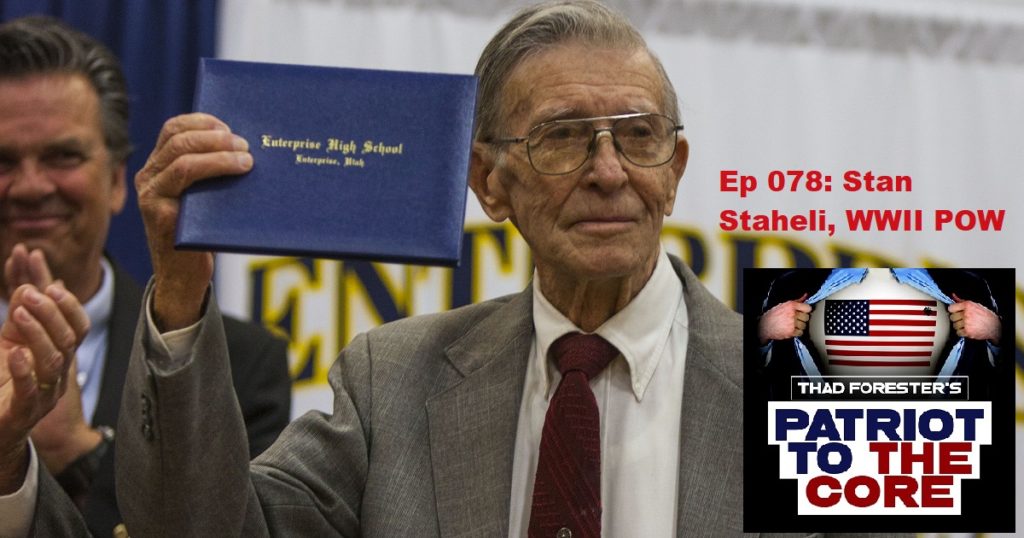 Please enjoy this replay that originally aired in Feb of 2017.
J. Stanford (Stan) Staheli was only 18 years old when drafted. One year later he was a member of Patton's Third Army, 4th Armored Division, liberating France from the Nazi's.  It was here that he was captured in 1944 during a German counter-attack near Rimsdorf, France.  The Germans immediately said "The war's over for you."  Stan thought surely, they were going to be killed; but that wasn't the case.
He and the other prisoners walked three days to the camp in Frankfurt. They then traveled by rail in a standing-room only conditions to East Germany. Then eventually to another location where they were held for five months. Even though he said he was treated humanely, he was stripped of his clothes each night and only had a small throw blanket for cover, during the coldest recorded winter in German history at the time.
Stan said life in the prison camp wasn't that bad. The guards told them "if you don't work, you don't eat." Having grown up in the depression, this wasn't a new concept to him. He learned to love to work long before the Army. They built bomb shelters and repaired railroads for the German Army. However, many of the guards were disabled from the front lines and would show the prisoners pictures of their captors' families when their superiors weren't around.
Staheli said his mom never lost faith that her son was alive. Even though he was officially "missing in action", many presumed he was dead. After being released, he was finally able to write his family and then surprised them on a Sunday morning in Cedar City, UT.
Today, Staheli is 91 years old (as of Feb 2017) and has a noble posterity – 10 children (2 have passed), 53 grandchildren, and 60+ great-grandchildren.  Quoting Will Rogers, he said "I never met a man I didn't like."
This hero, with only an 8th grade education, was presented an honorary diploma from Enterprise High School in May 2016.
Music courtesy of Soundroad – Believe.
Copyright 2021 Thad Forester
www.patriottothecore.com
email questions to thad@patriottothecore.com
Podcast: Play in new window | Download
Subscribe: Apple Podcasts | Google Podcasts | Spotify | Amazon Music | Pandora | iHeartRadio | TuneIn | RSS | More