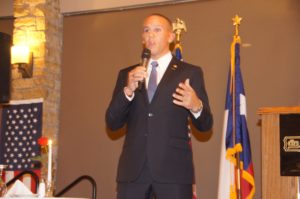 In July 2011 Johnnie was 10 days into his second deployment to Afghanistan when his vehicle hit an IED.  After applying two tourniquets to his legs and calling for air support and medical evacuation, he was eventually transferred to Brooks Army Medical Center for more surgeries, rehab and recovery.
He's now had 30 limb-salvaging surgeries to his feet, he is 1-inch shorter in height, and his ankles are fused at a 90-degree angle, requiring him to wear braces on each leg.
He discusses the details of his injury and how he kept a positive attitude throughout his recovery and painful surgeries.  He says there is nothing he can't do.
Now medically retired from the Air Force, he speaks regularly to large groups and churches.  He's also been a two-time participant in Pres. George W. Bush's Warrior Open Golf Tournament.
You'll appreciate his advice and humor on overcoming adversity and always having something to look forward to.
Podcast: Play in new window | Download
Subscribe: Apple Podcasts | Google Podcasts | Spotify | Amazon Music | Pandora | iHeartRadio | TuneIn | RSS | More