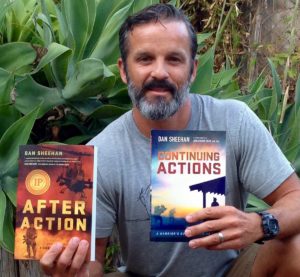 Dan Sheehan was fully prepared for combat.  He'd been an officer in the Marines for six years.  His father was a Navy pilot; his brother was a Marine.  This is what he was meant to do.  When it came to killing the enemy; no problem.  If they pose a threat, kill them.  If they try to kill him or his team, kill them.  It was that simple…. or so he thought.
He learned it wasn't that cut and dry during his first deployment to Iraq in 2003.  When teammates eliminated terrorists, he had no problem with it–it was necessary.  But for some reason when Dan killed, it impacted him like he never imagined.  His attitude became worse and his emails home turned more negative.
He not only struggled with actually killing, but how could he be 100% certain those he was firing at were legit enemy combatants?  There was no way to be completely certain.  He also learned the results of inaction could cause death to him and his teammates.
Welcome Home
Dan returned home in 2002 to a welcoming nation.  Strangers bought him drinks and shook his hand.  But when things quieted down, he was a wreck.  He couldn't sit still.  Even surfing wasn't the therapy he thought it'd be.  How was he supposed to immediately adapt from an active battlefield to home life?  He turned to alcohol, which allowed him to calm down some.
Fortunately, he had an understanding and patient wife, plus he began spearfishing.  His wife helped him in a way that no one else could.  The spearfishing provided a rush and "high" that he needed to feel normal.
His journey has been long, but he told me he's in a really good place now.  He's a stay-at-home dad who vowed to not screw up his kids.  Writing provided therapeutic healing in a way nothing else did.  Now, his books help veterans and those close to them understand they aren't alone.
To learn more about Dan, his books, and to see pics and videos from his deployments, check out his web site below:
You can purchase his awarding winning books here:
Music courtesy of Soundroad – Believe.
Copyright 2017 Thad Forester
www.patriottothecore.com
email questions to thad@patriottothecore.com
Podcast: Play in new window | Download
Subscribe: Apple Podcasts | Google Podcasts | Spotify | Amazon Music | Pandora | iHeartRadio | TuneIn | RSS | More