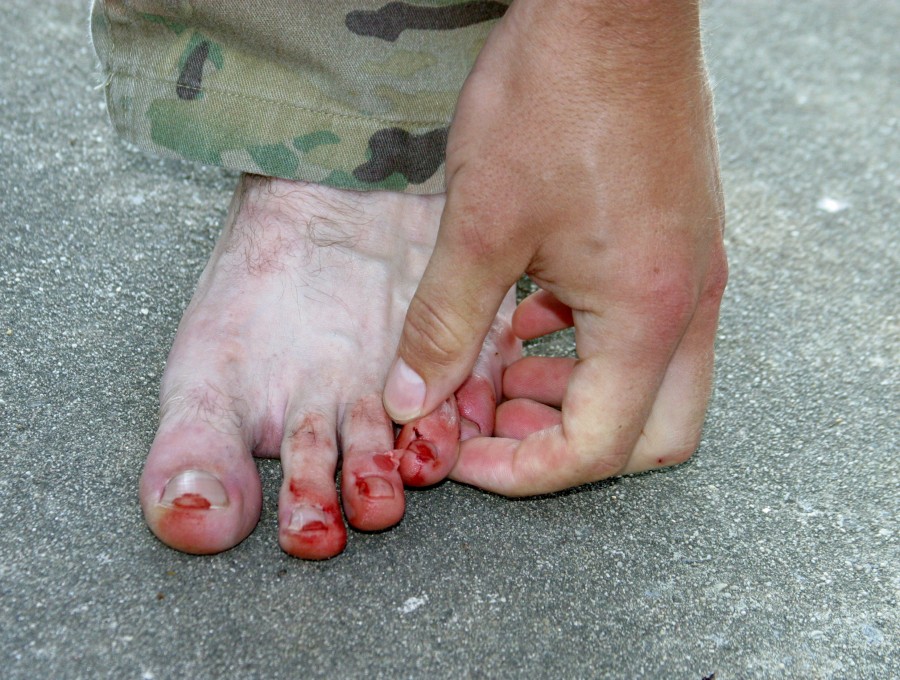 After Mark's death, I organized an annual memorial birthday walk. This event would serve two purposes:
To raise money for Mark's foundation
Put myself thru some pain to honor Mark and his sacrifice
So, it's that time of year again that I'm training to walk a continuous 35 miles. Many people have said to me over the years, "I think I'm gonna walk with you." I really appreciate it, but most people don't realize the toll on their body and feet. Sounds easy to just walk. But, think again. If you don't train, you will regret it. I don't care if you're an avid runner, CrossFit-er, or how good of shape you're in, this is different. I will admit there are a very few people I've seen just show up and walk, without painful injuries.  You don't want your feet looking like the picture above–he didn't last.  This was a few years ago after about 11 miles.
There are only a few tips I can share for preparing for this walk:
Train, Train, and Train.
Get the right shoes and socks
Beginning in Feb/Mar, I walk every Saturday morning. I increase my mileage each week and wear the shoes, socks, pants, and backpack that I will wear for the actual event in May. And since the weather is getting warmer, I start going barefoot more often to harden up my feet. It's important to get your feet prepared. I've seen too many people regret doing the walk–even after four miles–because they didn't train. Some of them are tough guys and they think they can slip on some sneakers and walk. Trust me, this normally doesn't work out too well.
Since Mark's walk is mostly on paved roads, all my training is on pavement. The terrain in Haleyville, where the walk is held, is hilly so I train with hills. I also like to ruck with a weight plate in my GR2 backpack early on, then as the miles get higher, I remove the weight.
For shoes, I like to use hiking boots. I've used Scarpa and La Sportiva brands. I like the latter best. They are wider and lace up faster. However, the Scarpa are pretty comfortable and very durable, they are just narrower and lace up higher than I need for this event.  Wear whatever shoes you want, just train beforehand.  There are some people who prefer tennis shoes/sneakers, but just because they are soft and are great for around town, doesn't mean your feet will like them after several continuous miles.
*Update: I started using GORUCK Macv-1 boots, then moved to GORUCK Ballistic Trainers.  As-of late 2023, I'm training with the new GORUCK Rough Runners.  I'll determine if I'll stick with them or the Ballistic Trainers.  Regardless, all the footwear from GORUCK is built for rucking long distances in any terrain.
For socks, I only use Smartwool Trekking (and have recently started to slowly implement Vermont Darn Tough hike/trek. Be aware these specific Smartwool's are thicker than the Vermont hike/trek). When I get over about seven miles, I change my socks. I also apply some talc powder/Gold Bond directly to my feet to help keep them dry. Even if my feet feel good, I normally go ahead and change to a fresh pair of socks. For the actual event, I change at each rest stop, which is every 4-7 miles. Some years, I've opted not to change at the last stop b/c my feet feel good and there's only 4 miles left.
There are other variables that are good to prepare for like rain, heat, cold, hydration, blisters, and chaffing.  We've had temps in the 40's and raining to sunny and 80's, with high humidity.  If you want to use a bladder system for hydration, train with it.  The day of the walk isn't a good time to have to adjust your gear or find out it's just not doing what you wanted.
Training for the walk is very time consuming. It's also a great workout, especially with added weight. In addition, it's a great time to listen to music, podcasts, or just enjoy the sounds of nature, mingled with cars driving by giving suspicious looks.
For more info on present and past walks, visit Mark's site here.
For my GORUCK gear reviews, visit my YouTube Channel here.