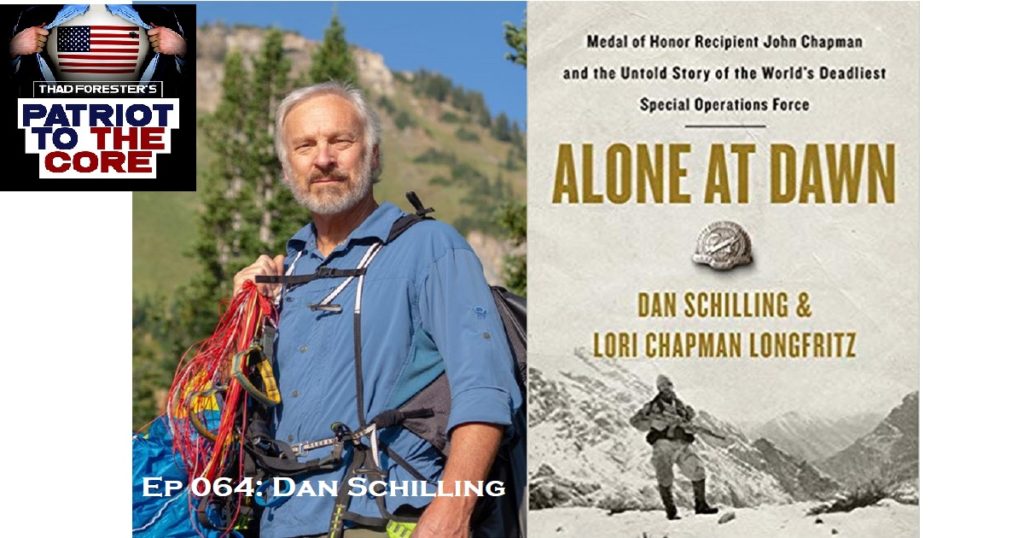 In the predawn hours of March 4, 2002, just below the 10,000-foot peak of a mountain in Afghanistan, a fierce battle raged. Outnumbered by Al Qaeda fighters, Air Force Combat Controller John Chapman and a handful of SEALs struggled to take the summit in a desperate bid to find a lost teammate. Chapman, leading the charge, was gravely wounded in the initial assault. Believing he was dead, his SEAL leader ordered a retreat. Chapman regained consciousness, finding himself alone with the enemy who was closing in on three sides. Thus began the most difficult and exceptional fight of his life.
For the U.S., the battle proved the deadliest entanglement of Operation Anaconda. We lost 7 men there at Takur Ghar, including Jason Cunningham and Neil Roberts.
On August 22, 2018, Pres Trump posthumously awarded the medal of honor to John Chapman. My guest today, Dan Schilling, has written a book, Alone at Dawn, to capture the life and legacy of this American Hero.
Although the book doesn't come out until June, I loved getting an inside scoop on Chapman's life leading up to his final mission and how Dan became involved.
We also talk about his extreme sports and why he set a Guinness World Record for 201 BASE jumps in 24 hours.
Pre-order Alone at Dawn here plus check out Dan's other books.
Watch drone footage of Chapman's incredibly heroic final stand here.
Copyright 2019 Thad Forester
http://www.patriottothecore.com
email questions to thad@patriottothecore.com
Rock Tune by Audionautix is licensed under a Creative Commons Attribution license (https://creativecommons.org/licenses/by/4.0/) Artist: http://audionautix.com/
Podcast: Play in new window | Download
Subscribe: Apple Podcasts | Google Podcasts | Spotify | Amazon Music | iHeartRadio | TuneIn | RSS | More