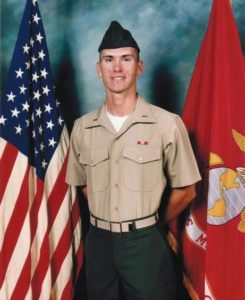 As a CIA officer, Mike Spann (Johnny Micheal) was in the fortress of Qala-i-Jangi, where Taliban prisoners were being held and questioned.  Although these captives had given themselves up, their pledge of surrender was a lie.
Mike was interviewing a group of extremists when hundreds of prisoners revolted in a planned uprising. Just before he was killed in the attack, Mike warned an Agency colleague of the imminent danger, helping his colleague get to safety. Spann fought for his life, but in the end was overtaken.  He went down fighting.
The life of Mike Spann life could have been spared if American traitor John Walker Lindh would have told Mike about the scheduled revolt.  Instead, he remained silent when Mike questioned him.
His dad shares with us about Mike's early days of getting his pilot's license at age 17, why he joined the Marines and then the CIA.  Then, how 9/11 impacted him.
Johnny also tells us that he discovered he couldn't trust everything he read or heard from the media, due to getting burned by some reporters.
Learn more about "quiet warrior" Mike Spann below:
https://www.cia.gov/news-information/featured-story-archive/johnny-micheal-spann.html
Music courtesy of Soundroad – Believe.
Copyright 2017 Thad Forester
www.patriottothecore.com
email questions to thad@patriottothecore.com
Podcast: Play in new window | Download
Subscribe: Apple Podcasts | Google Podcasts | Spotify | Amazon Music | Pandora | iHeartRadio | TuneIn | RSS | More