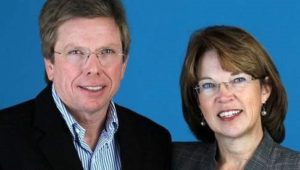 Bill and Evonne Williams have created a powerful memorial for fallen heroes since 9/11.  Its legacy will be that these men and women will never be forgotten and that their names will be remembered and spoken.  Their original exhibit has traveled around the state of Nebraska every week since 2011.
In cooperation with Bellevue University, their exhibit has traveled to and represented 18 states.  Soon, they will have all 50 states represented and begin a national tour.
He also shares his involvement with flying large numbers of WWII and Vietnam vets to DC on Honor Flights.  And then Gold Star wives and children honored at a Nebraska football game last fall.  Although Bill and his wife never served in the military, their four sons did.  They have incredible support and continue to help Gold Star families around the country heal.
More info here:
http://www.rememberingourfallen.org/
http://www.patrioticproductions.org/
Podcast: Play in new window | Download
Subscribe: Apple Podcasts | Google Podcasts | Spotify | Amazon Music | Stitcher | TuneIn | RSS | More