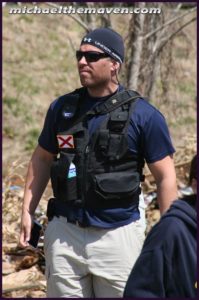 This week I talk with my good friend Mike about his volunteer work. He's a photography instructor by profession, but his most rewarding work is traveling the globe when massive natural disasters occur. He shares why this work is so fulfilling despite his life being threatened multiple times, details about his extended stays in Haiti, Nepal, Japan, and shorter relief efforts in the southern US.
He also shares his failed businesses, financial struggles and the fruits of his service.  He has a "go-bag" and is always ready to leave within 24 hrs of disaster.  He gives us some tips of what tools he travels with and what's in his go-bag.
As an adult, he has never worked for someone else to live.  He's always been an entrepreneur and after many years has found financial stability.  We went a little long today, but there was so much information that needed to be covered.  We still had to cut it short.  After listening, you'll understand why he is a Patriot to the Core.
Learn more about Mike and his work at:
Podcast: Play in new window | Download
Subscribe: Apple Podcasts | Google Podcasts | Spotify | Amazon Music | Pandora | iHeartRadio | TuneIn | RSS | More