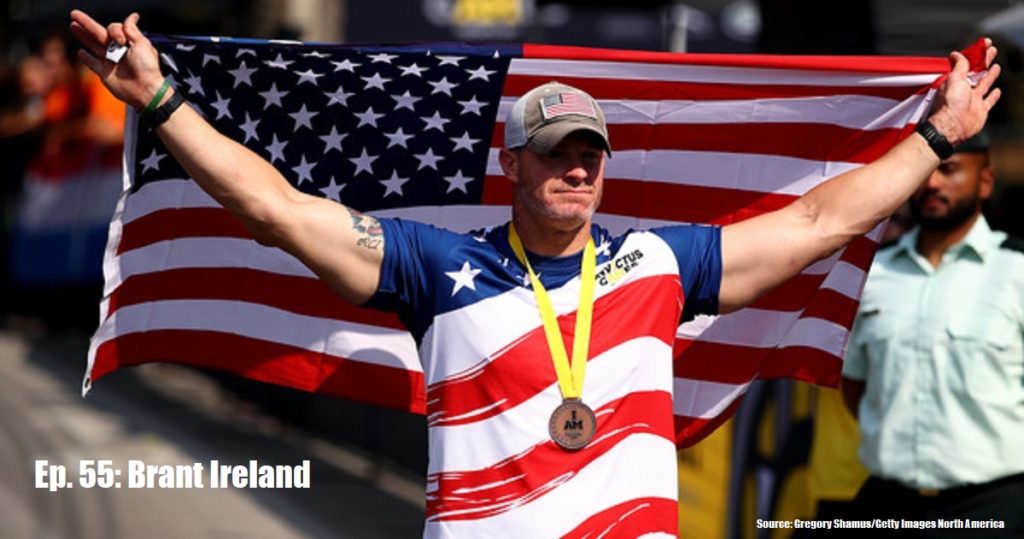 I first learned of Brant Ireland in an ESPN interview prior to the 2017 Warrior Games.  That's when I knew he needed to be on the show.
Here he is sharing how he made it thru the grueling pipeline to become a Green Beret, then loosing his leg in a bazaar accident in Afghanistan in 2013.  Ireland will describe in painful detail how it happened and his long recovery.  I mean, your leg isn't supposed to bend backward where you kick yourself in the groin.
Now he finds purpose and healing thru sports, which has been a constant his entire life.  Sled Hockey – this has become his favorite.  Brant says, "When I was at a very low point, sled hockey kind of found me.  'I was kind of closed-minded to adapted sports because I wanted to play real sports.  Those are for people who can't compete at real sports, but I'm going to find a way to compete at real reports.'  Looking back, how silly I was and how wrong I was."
I loved talking to this family man who continues to take care of his men in the 3rd Special Forces Group (A) and his family.  At the same time, showing his wife and children that there are always ways to adapt so you can continue to do what you love and prevail.  In Brant's case, it's sports.
Ireland won a silver medal in the 2017 Warrior Games and bronze medal in the 2017 Invictus Games.
*My podcast is on Patreon.  Please check out how you can help the cause and get insider access!
Copyright 2018 Thad Forester
http://www.patriottothecore.com
email questions to thad@patriottothecore.com

Rock Tune by Audionautix is licensed under a Creative Commons Attribution license (https://creativecommons.org/licenses/by/4.0/)
Artist: http://audionautix.com/
Podcast: Play in new window | Download
Subscribe: Apple Podcasts | Google Podcasts | Spotify | Amazon Music | Pandora | iHeartRadio | TuneIn | RSS | More