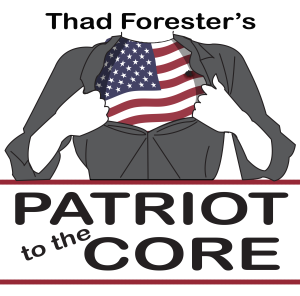 I'm very excited to launch my podcast called Patriot to the Core.  I've thoroughly enjoyed interviewing these great Americans and look forward to all those upcoming conversations.  I don't think anyone will get as much satisfaction from the interviews as I do, but I sure hope many come close because I want to see this podcast well-received and grow.
I think this podcast proves that not only does everyone have a story, but there are many people that are doing good in the world—both serving in the military and serving in other capacities.
For example, episode 003 is Mike Dillman who is a Vietnam Army vet.  Not only did he serve honorably, but after coming home to an ungrateful nation, he vowed to not let our veterans be forgotten so he created what is now the largest Memorial Day event on the west coast, possibly largest in the country.
Episode 002 is Michael Andrew who started a non-profit for disaster aid.  He's always ready to deploy w/in 24 hours to anywhere in the world that's recently been hit by a natural disaster.  His specialty is GPS tagging rural orphanages.
Plus, many more guests, which you can listen to right now via iTunes, Google Play, or thru my web site here.  A new show is released every other Monday morning.  I have guests ranging from all branches of the military, to authors, professional speakers, non-profits, athletes and maybe your neighbor down the street that you never knew donated much time or money to charitable causes.  Regardless of who the guests are, they will be Patriots—they love and serve their country and fellow man.  And they all have very interesting stories and advice for the listeners.
You will also hear from some of my brother Mark's teammates with more in-depth descriptions of battles and events documented in his book.
I ask that you subscribe to the podcast on iTunes and/or Google Play and give it an honest rating.  I'm not a professional with a radio voice, but this is going to be authentic and sometimes the audio quality will be less than stellar, depending how the interview has to be conducted.
The logo is symbolic of Mark.  He was killed with an American flag wrapped around his chest and back armor plates.  The subdued bullet hole in his upper left chest represents the fatal shot that took his life.
Thank you for reading this post and I really appreciate you listening to the podcast.  I know there are thousands of podcasts to pick from, but when this process began many months ago, there were very few that were formatted like mine.  Now there are a few more that are similar, but I hope this one piques your interests, at least a little.
If you have suggestions or questions, please let me know, thad@patriottothecore.com