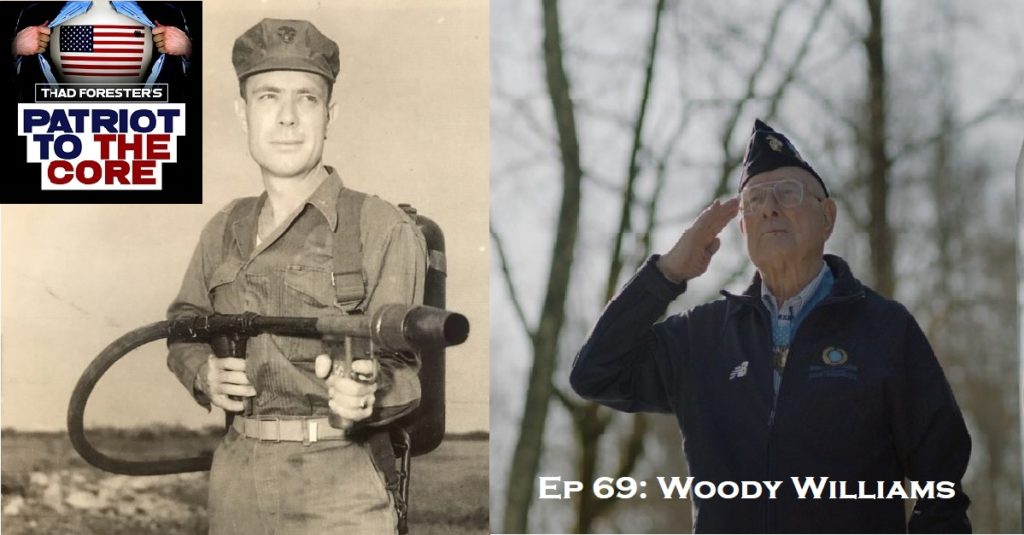 Woody Williams will never forget the odor of burning human remains.
"There are some things about that 4 hours that have bothered me my whole life… I can't remember going back and getting the other 5 flamethrowers. It was so horrific, I didn't want to remember."
I was introduced to death by flamethrower after learning of Mr. Williams. He went thru 5 – 70 lb flamethrowers in a 4-hour battle on Iwo Jima. Two of the Marines assigned to him were killed that day protecting his life. He is the last surviving recipient of the Medal of Honor from that battle, and the last surviving Marine to receive the MOH for heroism in World War II.
You could say Mr. Williams lived a sheltered life up until his time in the military. Prior, he'd never heard of Pearl Harbor, the Pacific Ocean, or Japan. He joined the Marines to protect his country and protect his freedom. He thought he'd be staying in the U.S., but after boot camp he learned they'd be fighting the Japanese in the Pacific.
I asked, "What did you know about Iwo Jima before you got there?" His response, "Not a thing!" Later he saw the flag raised on Mount Suribachi, but didn't consider the significance at that time. He had a job to do and wasn't reveling in the moment.
His story is remarkable. He was awarded the MOH by Pres. Truman, but admits being more nervous to meet the Commandant of the Marine Corp than the President. He shares with us what both these men told him regarding the medal. He didn't know anything about the MOH. Even the day he received it he didn't know what it was about.
I even get his opinion on the NFL controversies over kneeling during the National Anthem. Awesome interview. You should read his medal citation below and learn more about him at these links:
Read his Medal of Honor Citation
Learn about his foundation:
Hershel Woody Williams Medal of Honor Foundation
*originally published Oct 30, 2017
Copyright 2019 Thad Forester
http://www.patriottothecore.com
email questions to thad@patriottothecore.com
Rock Tune by Audionautix is licensed under a Creative Commons Attribution license (https://creativecommons.org/licenses/by/4.0/) Artist: http://audionautix.com/
Podcast: Play in new window | Download
Subscribe: Apple Podcasts | Google Podcasts | Spotify | Amazon Music | iHeartRadio | TuneIn | RSS | More