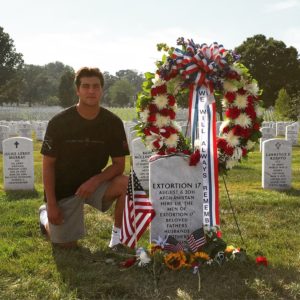 Will Thomas was 12 when the EXTORTION 17 tragedy helped him see that our freedom to compete in athletics and pursue other passions is made possible by the sacrifices of heroes.  Grateful for their gift, Will began honoring America's special operations community through a mission called Operation Hawkeye.
Will is now a senior at Gonzaga College High School in Washington, D.C., and Operation Hawkeye has grown into a national grassroots organization of individuals and enterprises dedicated to honoring the service of fallen special operators and raising monetary and in-kind aid for related charities, mainly through athletic challenges and gear collaborations.
Last summer, for example, Will piloted a successful baseball-themed challenge called STRIKE FORCE, benefiting Gold Star Teen Adventures.  He is currently working on his biggest campaign yet – a national version of STRIKE FORCE allowing high school, travel, and college baseball teams across the country to use baseball to raise funds for the Special Operations Warrior Foundation, beginning spring of 2017.
He also works with mission teammates to create branded apparel and other items benefiting special operations causes, such as the Operation Hawkeye shemagh scarf offered by Combat Flip Flops, which provides desperately-needed jobs in war-torn Afghanistan and helps fund programs offered by the TEAM 5 Foundation and the STATION Foundation.
Our future is bright with young men like Will stepping up to lead.  You can learn more about Will and his organization here, as well as him playing 2 on 2 in his driveway with Admiral McRaven:
http://ophawkeye.com/

Music courtesy of Rush – Freewill.
Copyright 2016 Thad Forester
www.patriottothecore.com
email questions to thad@patriottothecore.com
Podcast: Play in new window | Download
Subscribe: Apple Podcasts | Google Podcasts | Spotify | Amazon Music | Pandora | iHeartRadio | TuneIn | RSS | More