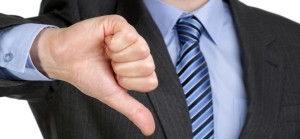 One reason that I was fortunate to use Triumph Press as my publisher is b/c I wanted final say in every aspect of the book—the cover, design, and content.  Since they are a small company, I'm left to do most of the marketing.  I enjoy it, but I'm also limited with connections, time and experience.
My goal from day one was to get Mark's book into brick and mortar stores.  I first contacted Books-a-Million, which has over 250 stores in the US.  They agreed to make an initial purchase and sell in their top-selling stores for biographies.  It was a small quantity, but with this being my first book with little sales data, they couldn't take a chance on me.  I understood that.  Plus, my distribution chain is somewhat limited.
I found great pleasure seeing my book on the shelf when I visited various stores.  Occasionally I'd buy one and ask the cashier if she'd heard of the book.  Some would say "no" and some would say something like, "I think so".  They were probably just making themselves believe they'd heard of it.  Anyway, I'd say something about how good I heard the book was and leave it at that.
About a year later, I contacted their buyer again asking if they were going to re-order.  Now, here is the good stuff.  She said:
"No, we will not be reordering this title." 
I can take that.  I still haven't gotten an explanation why, but the answer is obvious.  Of course I could go into the shelf placement, yada, yada.  But, bottom line is it didn't sell fast enough to catch their attention.  However, it didn't do too bad b/c part of the contract was we'd have to buy the books back if they didn't sell the quantities they wanted.
Next came the one I really wanted, Costco.  This one is tricky and I won't go into many details, but here is what they responded with: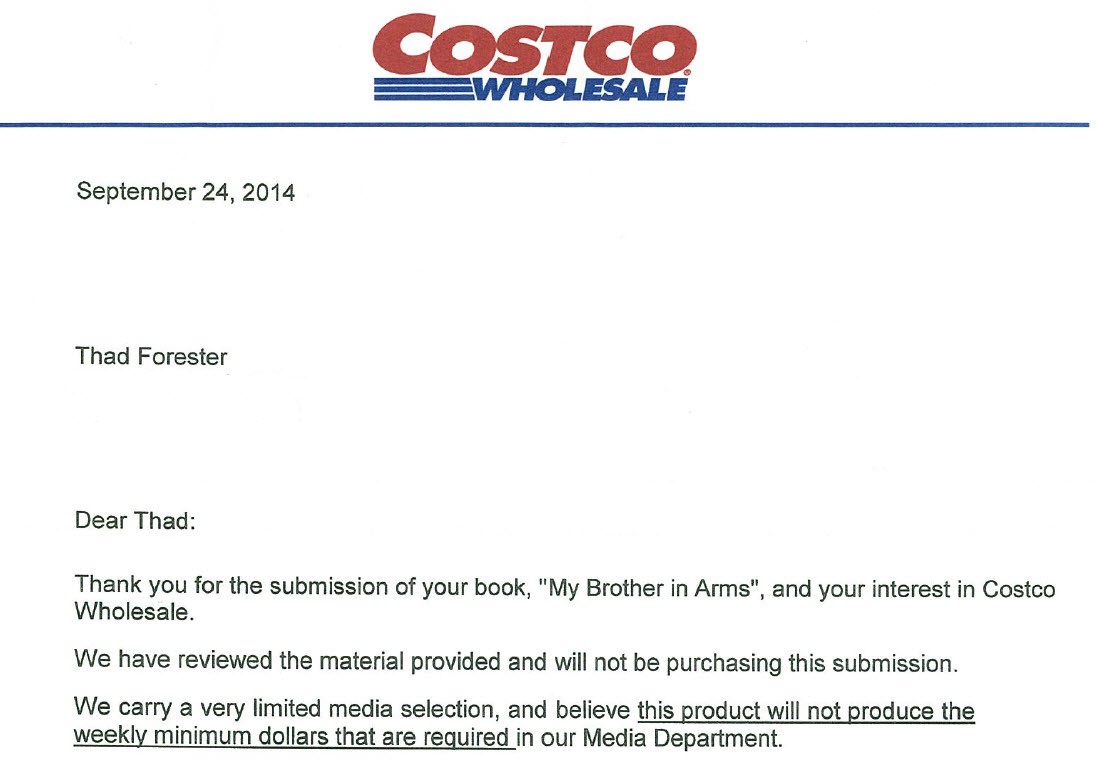 There are a few reasons why I think they rejected:
They didn't like the cover—possibly too strong.
My distribution chain doesn't meet their criteria. Even though I have a publisher, the paperbacks are still printed thru Createspace.  However, hard covers are printed and distributed thru one of their approved vendors.
They just didn't like the book.
Regardless, I wasn't done trying.  About a year later I talked to an author from TN who was doing book signings at every Costco in the southeast.  I met him and asked how he did it.  In a nutshell, is he's with a traditional publisher, so they got him in.  Even though Costco doesn't sell his book, it's in their system, so they could sell from their shelves if wanted.
With some research I found out that American West Books is a distributor who sells to Costco.  If I could get them to purchase mine, they could get my book into Costco and probably other stores.
Well, here is their response:
"We have reviewed the book you sent us and feel we would not be successful with it.
Our retail customers carry a very limited title selection and we believe yours will not produce the weekly sales minimums that are required by them."
So, two strikes for Costco.  Doesn't mean it won't happen.
Now there is a down side to getting into large retail stores—profit margins are very low and they want guarantees that you'll buy the books back after a certain period if they don't sell to their standard.  So, if you're not with an established publisher printing thousands and thousands of books at a time, this is very hard to do.
Even though I've received several "No's", I've been fortunate to have what I deem success regarding book sales.  Amazon is a great tool, both for physical books and Kindle.  I've had book signings at several stores and restaurants.
I'm not sure what the beauty in rejection actually is, but it just pushes me to be more creative and persistent.  This is something I believe in so I won't let up.
Being a self-published author, or one like me who technically has a publisher, but is still responsible for most of the promoting, is a non-stop job trying to sell books.  There's always work to be done.  And since I'm passionate about the product, I enjoy the entire process and don't get discouraged by the rejections.  Onward!
Note: if you have any questions regarding my experiences in selling the book, whether on-line or in a store, feel free to ask.  I left out a lot of details.