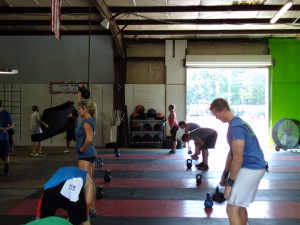 A portion of all sales of "My Brother in Arms" goes to The Mark Forester Foundation.  So, throughout the year, I participate in fundraisers for Mark's foundation.  Recently, I took part in my 5th CrossFit JAG 28 Hero WOD (workout of the day).   I've done them in three different gyms (called boxes) in August when it's extremely hot, September when very comfortable, to January when cooler.  Each workout consists mostly of people I've never met and who never knew Mark.  But what happens is people want to sweat and suffer in order to raise money for a foundation that honors Mark Forester.
What makes so many want to do this?  Yes, many people are just looking for reasons to get a good workout.  You can look at how well the series' of Tough Mudder, Spartan Race, and Warrior Dash have done the last several years.  I completed a Tough Mudder in Feb with temps in the 40's and wind chill much colder than that—I was miserable.  And that event didn't even support a specific fallen hero.
Then there are others who just want to honor one of their fallen.  Some can connect with Mark since he went to The Univ of Alabama, where he is from, or because he was in the military.
For me, I love the exercise.  And even though I work out regularly, I only do this type of workout when it's the JAG 28 fundraiser.  It's painful.  While doing it, I like to think of the extreme training Mark and his teammates went thru so they could don the red beret.  Mark used to tell me how awful some of their workouts were–flutter kicks and push ups for hours, for example.  When considering that, I can handle some discomfort for 30 mins.
To those good friends who organize them each year, I sincerely thank you.  I'm constantly amazed at the selflessness and loyalty of so many who want to honor my brother.  And to those gym owners and participants, you can never be thanked enough.  I'm also appreciative that CrossFit honors all our fallen heroes with WOD's throughout the year.
I am fortunate to be able to share Mark's example by writing his biography and by taking part in fundraisers.  Next time you feel a workout is too hard, think of those who experience much harder conditions to protect us (or those who gave all).  Temporary pain is the least we can do!