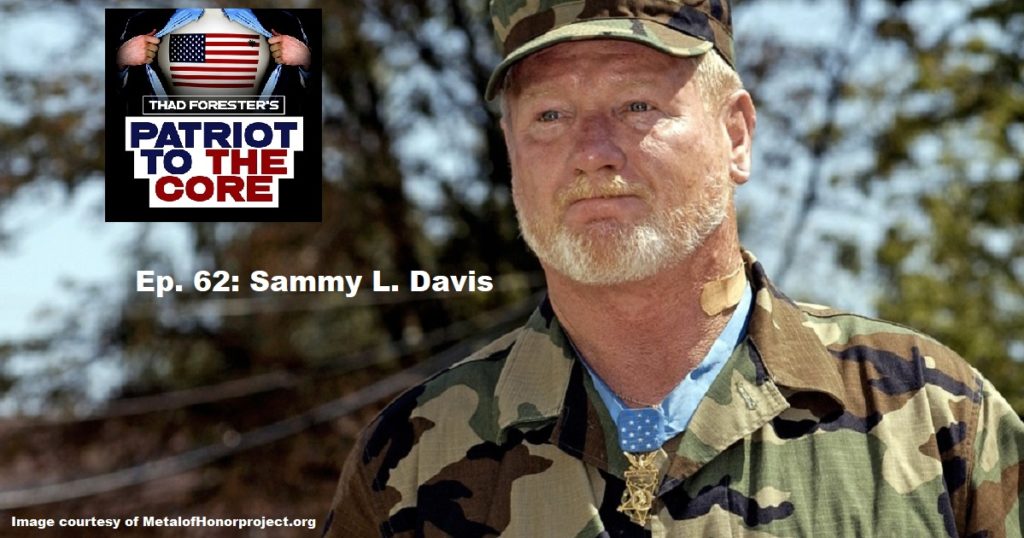 Sammy Davis joined the Army because he loved his daddy. He wanted to make him and his grandads proud.  He was just a kid out of high school.  If he hadn't joined the Army, he wanted to be a member of Hell's Angels. 
Regarding war protestors at SFO I asked, "Did you look them in the eye?"  Davis' response: "I looked every one of them in the eye." 
On November 18, 1967, his team was ambushed by the Vietcong and the Americans did what they were trained to do.  Davis was knocked unconscious, then woken up by a beehive round strike to his body. Although he didn't think he'd live to see the light of day, he saw his brothers across the river and he rescued them.  One of those men was Jim Dyster, who had been shot thru the head and was for sure dead.  Turns out, he wasn't.  
During our conversation we get to hear from his wife, Dixie too.  She's by his side at all his appearances.  She wrote a book about their life, which is linked below.
This is another great, selfless American that kept a smile on my face the entire interview.  And you may be interested to know he's the real life Forrest Gump.  Watch his Medal of Honor ceremony with Pres Johnson and you'll see why. 
Below are some resources to learn more about Sergeant First
Class Sammy L. Davis:
His book: You 
Don't Lose Til You Quit Trying.
Dixie's book:  Endless 
Love and Second Chances
Podcast: Play in new window | Download
Subscribe: Apple Podcasts | Google Podcasts | Spotify | Amazon Music | Pandora | iHeartRadio | TuneIn | RSS | More