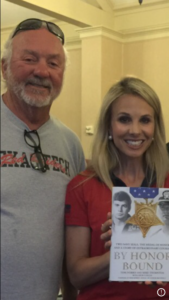 If you want to hear from someone who is a great example of the American Dream, this is it.  Ronnie Rains grew up poor, was drafted to serve in Vietnam, and later in life started businesses that have allowed him to be very generous to many people today – specifically our military and their families.
Regularly, Ronnie hosts wounded warriors at his ranch from all branches of our military.  He wants them to have a place to relax, hunt, fish, kayak, eat good food, and be away from cameras and photo ops.  He says putting those injured with someone in worse conditions than their own lifts their spirits.  I've been there and know first-hand the care he takes of our heroes.
This humble man helps our warriors in ways doctors and medicine can't.  He shows us how to walk the talk by serving quietly, while impacting many.
Music courtesy of Soundroad – Believe.
Copyright 2016 Thad Forester
email questions to thad@patriottothecore.com
Podcast: Play in new window | Download
Subscribe: Apple Podcasts | Google Podcasts | Spotify | Amazon Music | Pandora | iHeartRadio | TuneIn | RSS | More