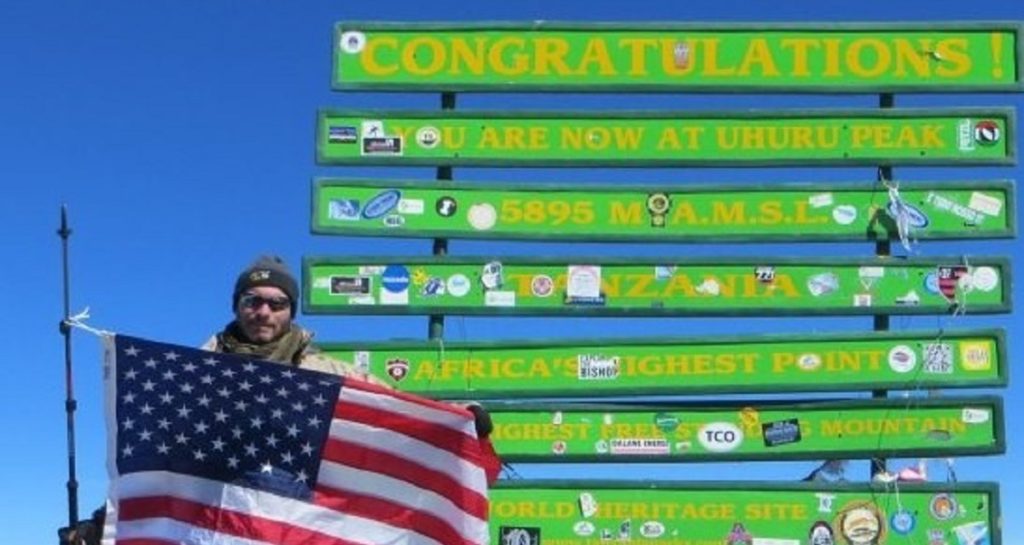 Roger Long was living the American dream in his 30's–good, stable job with very profitable company, home like they'd always wanted, 2 healthy boys and married to the love of his life.  Then, Young onset Parkinson's disease attacked and changed his life forever.
He gained a lot of weight, walked with a cane and medically retired.  Then, a phone call from his deployed son in Afghanistan gave him the kick in the tail he needed.  When his oldest said "Dad, I don't think I'm going to make it out of here alive", Roger knew he had to be available to walk with his son when/if he came home.
So, he started walking with a goal in mind – to walk a continuous 10 miles in his neighborhood.  He dropped his cane and did it.  He also quit all his meds and got to the point where the effects of Parkinson's would come back only when he didn't exercise regularly.  Roger had to walk most days of the week in order to feel good.
In 2012 he completed the Bataan Memorial Death March with this oldest son, physically aiding him across the finish line.  Later, reaching the summit of Mt. Kilimanjaro ten years after his Parkinson's diagnosis was the culmination of a life-changing turnaround that set him on a new life course.  Africa changed him.  It showed Long what's really possible and to think beyond himself.  In the end Roger said goals help us recover.
He documented his diagnosis and journey climaxing with standing on top of Kili in his book:
Push the Rock: Second Chances on the Road to Kilimanjaro
Read more about Roger at First Summit Project
*PTC is on Patreon.  Please check out how you can help the cause so I can provide quality content and keep on keeping on!
Copyright 2018 Thad Forester
http://www.patriottothecore.com
email questions to thad@patriottothecore.com

Rock Tune by Audionautix is licensed under a Creative Commons Attribution license (https://creativecommons.org/licenses/by/4.0/)
Artist: http://audionautix.com/
Podcast: Play in new window | Download
Subscribe: Apple Podcasts | Google Podcasts | Spotify | Amazon Music | iHeartRadio | TuneIn | RSS | More