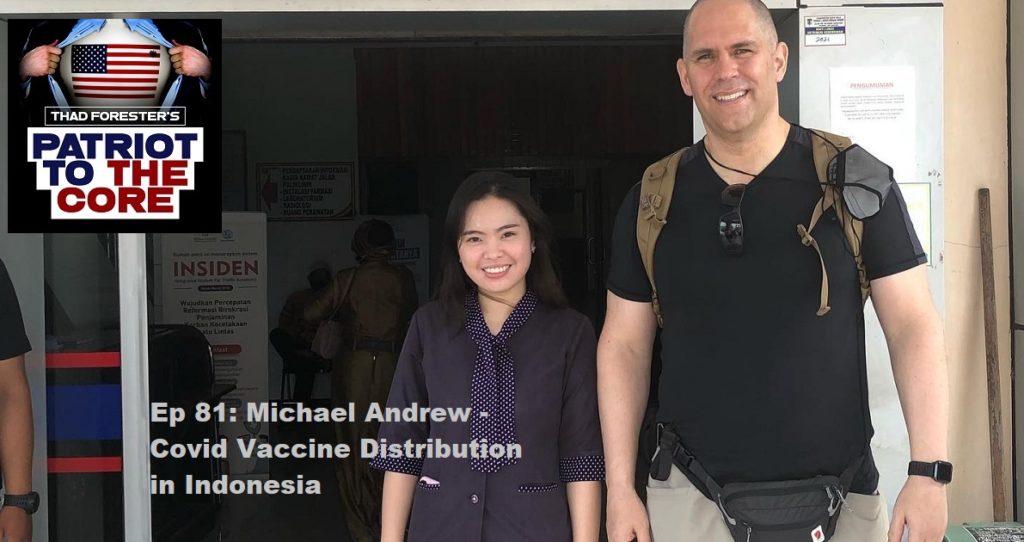 Michael Andrew (Michael the Maven) is back on the show to discuss why he's in Indonesia and why UPS asked him to help them with logistical challenges in delivering vaccines.
If you don't follow Michael, I encourage you to check out all his adventures–both as an entrepreneur and as a volunteer throughout the world. Today he explains the difficulty in getting the vaccines to the poor and to very remote areas. He's not pushing it on anyone, rather providing logistics and supply chain help in making it available to those who desire the vaccine.
This isn't a political, left or right, discussion. Mike merely explains why he feels compelled to help and why he's lost some friends over his involvement with this project.
Visit his non-profit, Red Lightning here.
You can check out Mike's first book here – 3 Weeks in Haiti
And this remarkable story of a man buried alive for 27 days. Mike captured his rescue here.
Copyright 2021 Thad Forester
www.patriottothecore.com
email questions to thad@patriottothecore.com
Podcast: Play in new window | Download
Subscribe: Apple Podcasts | Google Podcasts | Spotify | Amazon Music | iHeartRadio | TuneIn | RSS | More