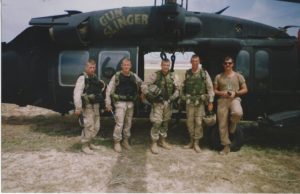 In 1993, Larry Moores was leading a convoy to capture two Somali leaders when two Blackhawks were shot down.  Then the mission turned into a desperate search and rescue mission.  In what is known as "Black Hawk Down", Larry describes his role in the battle that left 18 killed, over 80 wounded, and one missing pilot from his task force.
He shares with us valuable lessons he learned in Mogadishu and what roles his men played in recovering our dead and wounded.  Also, the benefits of living right in the city of Mogadishu and deploying from a very visible airfield.  The locals saw them all the time.
He enlisted as a young Army Ranger, commissioned through Officer Candidate School and served a 21-year career in Airborne, Ranger and Special Operations assignments, with numerous deployments including, Grenada, Somalia and Afghanistan.
Moores is now Executive Director of Three Rangers Foundation, which provides veterans with experts, advice and assistance in every aspect of their journey; whether spiritual, physical, mental, employment, finances, family, or education.
Learn more about his foundation and upcoming events in 2017:
http://www.threerangersfoundation.org/
And Larry proudly supports James Dietz's portraits in his home:
http://www.jamesdietz.com/

Music courtesy of Soundroad – Believe.
Copyright 2017 Thad Forester
www.patriottothecore.com
email questions to thad@patriottothecore.com
Podcast: Play in new window | Download
Subscribe: Apple Podcasts | Google Podcasts | Spotify | Amazon Music | Pandora | iHeartRadio | TuneIn | RSS | More