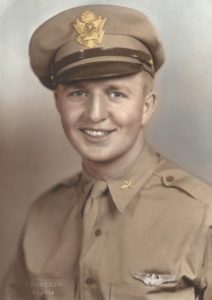 Frank Jones married his high school sweetheart two weeks before WWII broke out.  He felt he should do his part to serve our country, so he joined the Air Force.
After washing out of pilot school for making six spins instead of two with his instructor, he became a bombardier.
One year after being married, and about three months after his first child was born, he was flying to England for his first deployment.
On his 23rd mission, with Hamburg, Germany as the target, Frank's plane was shot down.  The crew got out first, then just as he exited the plane, it exploded.  However, he parachuted to his safety; temporarily.
He was alone on the ground, until he saw several locals.  Even though he hid behind a bush, some kids saw him and reported to the adults.  20-year-old Frank Jones was then taken prisoner on December 31, 1942.
The explosion made him deaf which ended up causing him to be thrown in solitary confinement.  Once removed, the bang from a slammed door miraculously brought his hearing back.
Life as a prisoner
Frank tells of their walk to another POW camp in Munich in the middle of winter.  What it was like to sleep in a pig pen, be a prisoner for four months, and then the sweet reunion with his wife and son in spring of 1943.  Plus, he learned boll weevils look like beans in soup, but he ate them anyway – hunger does that to you.
This 94-year-old stays active and is a joy to speak with.  Jones is one of the few left living from the Greatest Generation.
Music courtesy of Soundroad – Believe.
Copyright 2017 Thad Forester
www.patriottothecore.com
email questions to thad@patriottothecore.com
Podcast: Play in new window | Download
Subscribe: Apple Podcasts | Google Podcasts | Spotify | Amazon Music | Pandora | iHeartRadio | TuneIn | RSS | More