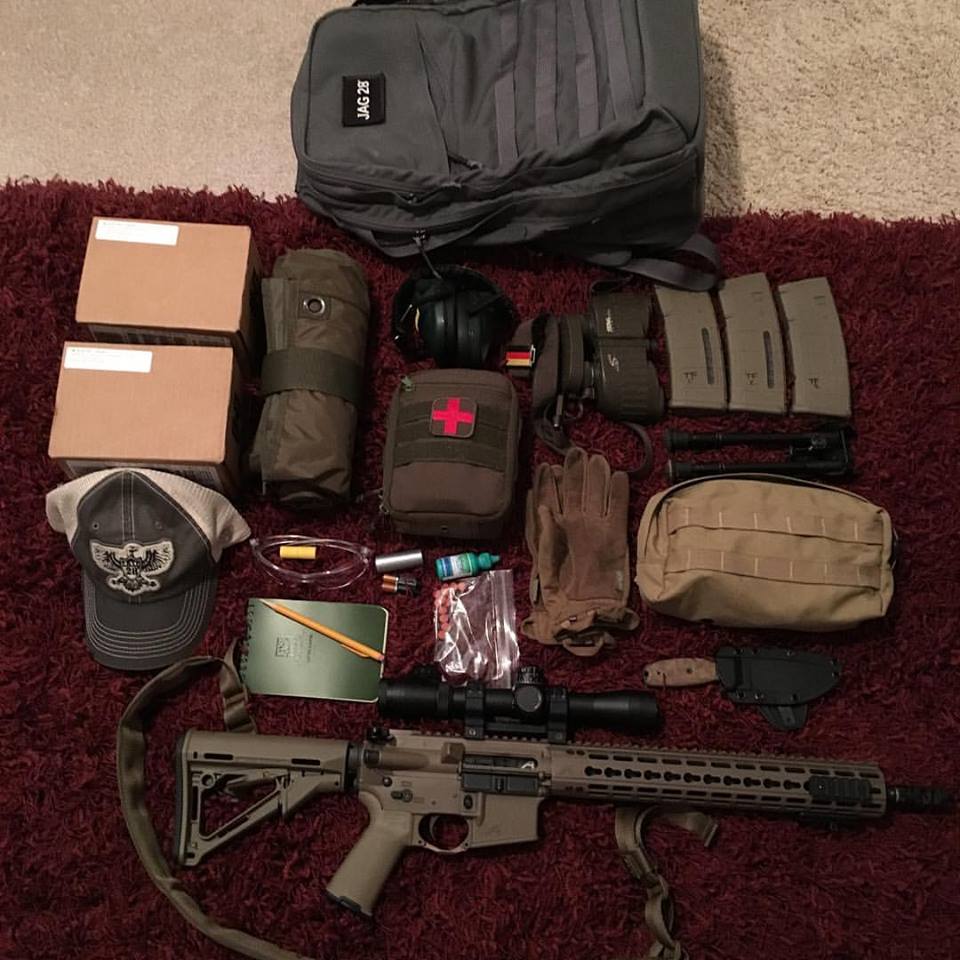 I recently attended Kyle Defoor's Scoped Rifle Class in Eastaboga, AL.  His classes aren't easy to get in as a civilian, so I was even more pumped to take part.  Kyle is a former SEAL and sniper and has a loyal following across the country.  One reason I say this is I was the only guy in the class from AL.  Everyone else came from UT, MO, GA, DC, PA and MA.
We covered several topics, but I'll highlight a few that were particularly helpful to me.  As background, I consider myself a beginner when it comes to rifles.  I took as many notes as I could, but unfortunately didn't get any pics of the action–I was too busy trying to soak up all the info.
Disclaimer:  these details are from memory so there's a chance I've put something inaccurate, but hopefully that didn't happen or is insignificant.
My general gun setup
 -Aero Precision upper and lower
–Giessele G25 trigger (2 stage)
–VTAC sling.  I've never felt comfortable in my sling and didn't know how to use it effectively.  Kyle adjusted to my liking, showed me how to quickly tighten and loosen and shared a nugget to add some heat shrink tubing on the release pull.  This is also the brand Kyle uses, except his isn't padded.
–Ballistic Advantage Hansen Series 5.56mm 14.5" barrel, mid-length gas
–Battle Arms Development Ambi Safety
–Aero Precision 13" keymod rail
-Harris 9-13" bipod. First time using a bipod, but since we were shooting from prone up to 465 yards, it was necessary.
–Leupold 2-8x scope
My pack: 
–GR2 rucksack.  This is my go to pack for all traveling.
Topics (not all-inclusive but ones I want to talk about here):
 -Safety. Not going into detail, but goes without saying that it's priority. Reviewed basic range and gun safety, clearing, communication, etc. Not sure about the other guys, but very helpful to me.
-Binocular use and observation. When observing, use naked eye first.  Look for shapes, colors, and movements that don't belong.  Then use the binos.  Remember, there are no straight lines in nature.
-Blades.  Some options to look for when choosing blade for self-defense (not for opening boxes and envelopes):
Spear point
Distill taper
Handle design.  Must prevent you from riding the blade and allow it to be capped.
Sheath system.  No shelf, ambidextrous, quality clip and sweat guard
Other notes:  when holding knife, pull sheath from blade, not blade from sheath. For fun, I checked out knives at a local outdoors store and although they had quality blades, they had zero that met Kyle's preference for carrying on himself. Kyle uses a RAT as his daily carry blade, named after his friend Tom Ratzlaff who was KIA aboard Extortion 17.  It will be my next knife purchase.
Short video of Kyle discussing combatives:
-Combatives. Practiced shooting target in head from 7 yards. We worked on stance and gun position before seeing and shooting target. Then, Kyle pulled out the timer and we checked our speed, along with accuracy.
I had no problem hitting the target (of course it was only 7 yards…), however my speed was poor and my shots were all a little low. He reminded me to aim higher, since my scope was dialed in at much longer distance from day before.
I also have a long way to go on safety manipulation. Raising gun while releasing safety and shooting accurately was new to me. But, another tip was to only use my thumb for the safety – don't use my index finger on the opposite side. He also pointed out that my finger kept entering the trigger area when my safety was on, just prior to raising gun and shooting. This is something I thought I was aware of, but took someone else looking for the little details to point out.
Kyle providing details on stance and bringing gun to head, not head to gun:
Summary
Since I don't get to shoot often (especially rifles), I probably gained years of experience in these two days with Kyle Defoor. Some little things that stood out to me were my finger position on trigger (big help with accuracy), where to put buttstock on shoulder, to bring gun to my head instead of head to gun, extend my stock all the way out, how to determine where to mount bipod, problems sun can cause when using optics (and tips how to minimize its impact), and after using and seeing some of Kyle's equipment, "You gotta pay to play."
You'll find Kyle all over the web as an expert in firearms and combatives.  His experience goes back to his childhood; growing up in a small town and spending his days outside–hunting, exercising and playing sports.  He and I grew up together, so I already knew what kind of athlete he was.  Once he joined the Navy, obviously his training went to a whole new level.
I interviewed Kyle on my podcast back in the spring where we not only talked about his military career, but also his upbringing and why he joined.  We also reminisced just a little about the good 'ol days in Haleyville.
Listen to my interview with Kyle here:
Kyle Defoor on Patriot to the Core podcast
Another great video below: