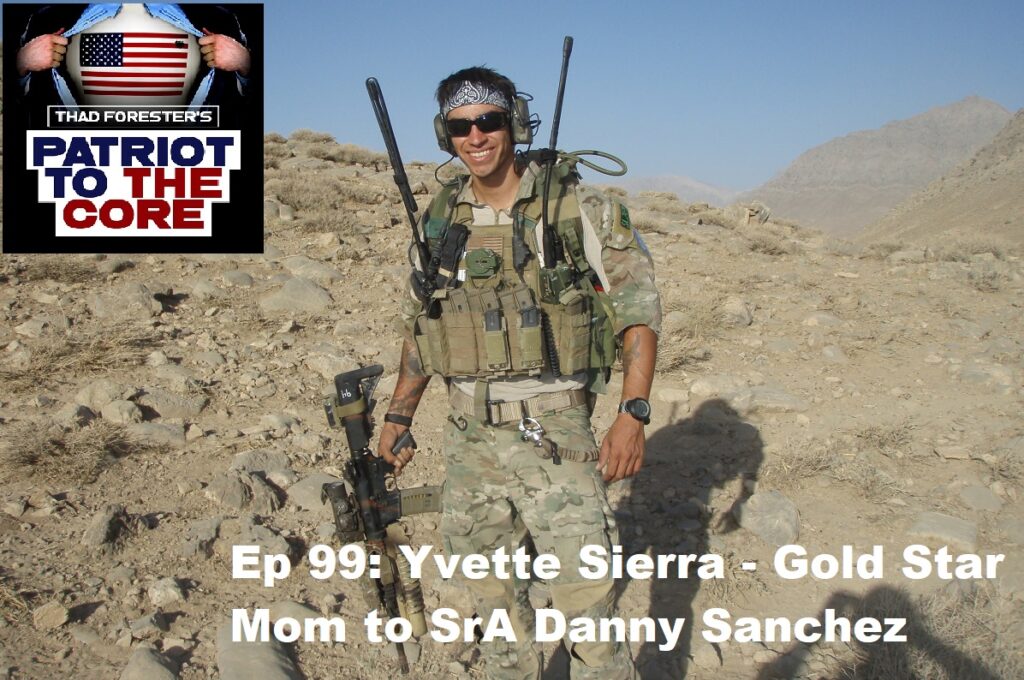 On Sept 16, 2010, Yvette's son, Daniel Ray Sanchez (Danny) was killed in Afghanistan by an insurgent who infiltrated the Afghanistan partner force.
Today, Danny's mom tells us why this "ball of energy" was made for Combat Control and what happened on his first deployment – how was an insurgent able to get on the helicopter with Danny and his team and then kill Danny when they landed. Fortunately, that guy was killed immediately, but only after injuring others, and of course killing one of America's bravest.
Yvette started the SrA Danny Ray Sanchez Foundation and holds an annual race on Labor Day weekend to raise money to provide scholarships to Montwood High School graduates, and hopefully to other schools in the district soon.
Yvette and I have become friends since 2010. We've mourned together and attended several events together. I loved finally getting to have her on Patriot to the Core. Listen to this mother's love of her son as she shares how she was notified and how she's handled his loss since. We also discuss how Danny's death affected her youngest son, Dakota, since he's no longer being duct-taped to the door or being hung on the door knob by his underwear, compliments of his big brother.
You can also watch this interview on YouTube here.
Mentioned in this episode:
Memorial 3 Gun
Combat Control Foundation
Copyright 2023 Thad Forester
http://www.patriottothecore.com
email questions to thad@patriottothecore.com
Podcast: Play in new window | Download
Subscribe: Apple Podcasts | Google Podcasts | Spotify | Amazon Music | Pandora | iHeartRadio | TuneIn | RSS | More