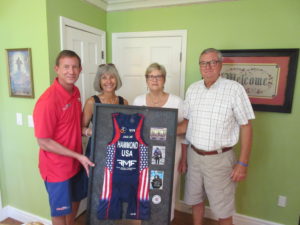 At age 56, Dan Hammond qualified for the US National Team to compete in the Duathlon World Championship in Aviles, Spain. He shares how he overcame injuries to quality for team and then found motivation to finish the big race, despite his body telling him to quit shortly after starting.
He also started "American Profile" magazine to distribute the good news of life in hometown America. It was the largest publishing launch in the US and spotlighted heroes that most of us never knew about; or those we did know, but never knew the selfless work they did for others. Goes to show that every town and every person have great stories.
Read more about Dan here:
http://markaforester.com/?postID=1904&tennessee-athlete-honors-mark-in-duathlon-world-championship
http://www.americanhometownmedia.com/

Music courtesy of Soundroad – Believe.
Copyright 2016 Thad Forester
www.patriottothecore.com
email questions to thad@patriottothecore.com
Podcast: Play in new window | Download
Subscribe: Apple Podcasts | Google Podcasts | Spotify | Amazon Music | iHeartRadio | TuneIn | RSS | More