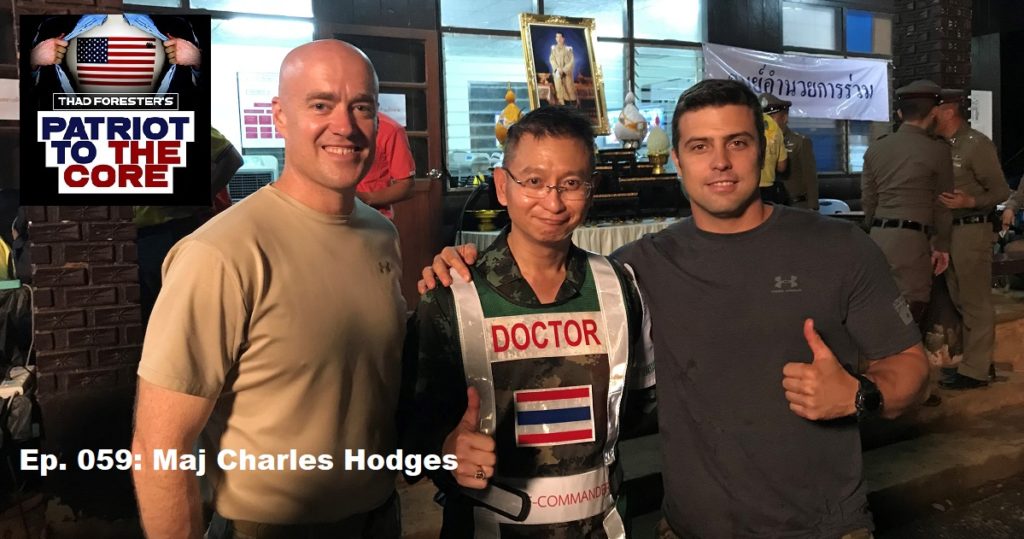 "If we don't try to rescue the boys, we'll be giving them a death sentence."
On June 23, 2018, a team of 12 boys — who were all between the ages of 11 and 16 — had just finished a weekly soccer practice and went to explore a cave with their coach.
But after they'd entered the cave, heavy rain started falling and the rising water trapped them inside.
1 day later their belongings were found.  Then, on July 2 a rescue diver discovered them when he ran out of line and popped up out of the water inside the cave.
While most of the world was captivated by this story, my guest today was in the thick of the action.  Major Charles Hodges was the US Mission Commander. He and his team from the 353rd Special Operations Group along with a team from the 31st Rescue Squadron, were brought in to advise and assist the Royal Thai government.
He gives us great detail on their initial thought processes, how he and his team assisted the multinational effort and why they were willing to take risks and be bold b/c they had no choice but to get the Wild Boars out of there, accepting that 3-5 of the boys could die in the process.
Maj Hodges, an Air Force Special Tactics Officer, concluded with: "This is what we train for – going into a crisis and solving problems."
Copyright 2018 Thad Forester
http://www.patriottothecore.com
email questions to thad@patriottothecore.com

Rock Tune by Audionautix is licensed under a Creative Commons Attribution license (https://creativecommons.org/licenses/by/4.0/)
Artist: http://audionautix.com/
Podcast: Play in new window | Download
Subscribe: Apple Podcasts | Google Podcasts | Spotify | Amazon Music | Pandora | iHeartRadio | TuneIn | RSS | More